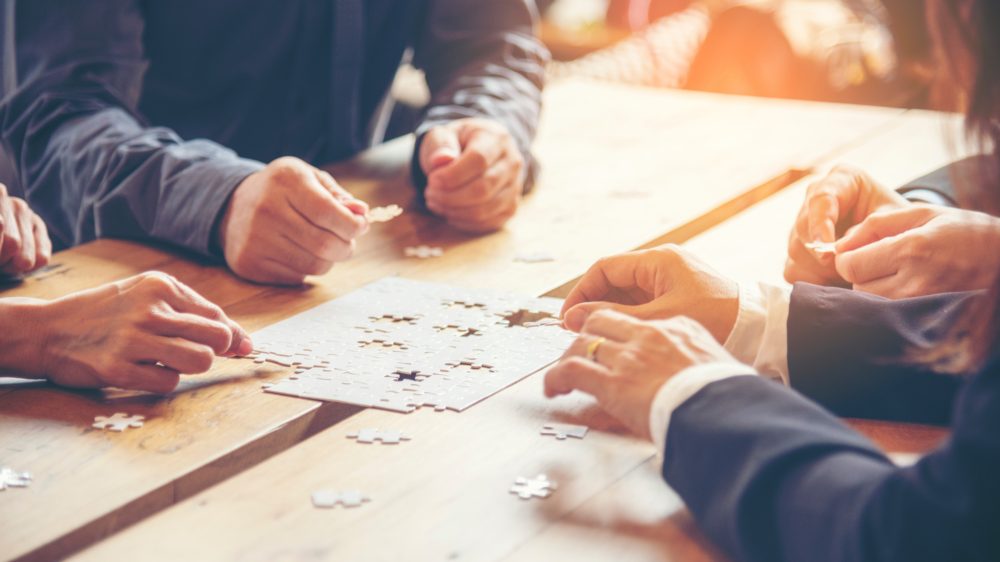 Installation / Execution support
Client: EXEO Group
Promoting Purpose formulation with an eye toward transformation into an innovative organization
Background
As the core company of its group, EXEO Group, Inc. (formerly KYOWA EXEO) changed its name with the aim of creating new value and achieving sustainable growth by combining its management resources together with other group companies. Taking this as an opportunity, EXEO Group decided to redefine its brand and formulate a plan for implementing measures to foster a sense of group unity and enhance the brand power. To make this happen, it chose to work with DI, which has helped large companies produce businesses and transform themselves into organizations capable of continuously creating new businesses, to create its Purpose to serve as a banner for its initiatives.
Support overview
DI undertook a 4.5-month long project divided into three major phases, aimed not only at formulating a Purpose that differentiates EXEO Group from its competitors, but also at ensuring that the underlying principles of the Purpose are actually understood and embodied by employees and shared with customers and partners, which was also one of the objectives of the project.
Phase 1: Stakeholder awareness survey (two months)
In light of the objectives of formulating the Purpose, DI conducted surveys and interviews not only with management, but also with employees and customers (client companies). DI leveraged its knowledge and experience to carefully confirm the "expectations" and thoughts behind these expectations from the employees, as well as the "elements of feasibility" based on past examples and achievements. In addition, DI was able to extract the essential keywords that would contribute to the formulation of the Purpose by asking client companies not only about their current perceptions of EXEO Group, but also about their expectations of the company in anticipation of changes in the medium to long term.
Phase 2: Discussions on proposals of the Purpose (one month)
DI compared the extracted keywords with the slogans of competitors in Japan and abroad, and narrowed down the list to about 10 verbalized proposals in line with the objectives of formulating the Purpose with the help of a network of outside creators and patent attorneys. Based on these proposals, we held discussions with EXEO Group members, which led to the creation of a Purpose that everyone involved could support and that would lead to a new guideline for change.
Phase 3: Formulation of measures to disseminate the Purpose within the company (1.5 months)
In order to ensure that the Purpose would not remain just a slogan, DI consulted with the relevant departments to translate the Purpose into actions for corporate reform, and comprehensively identified specific tasks to be performed in the field, such as embedding the Purpose in job evaluation and various training programs, establishing new departments, and revising evaluation policies at the time of hiring, so that the efforts would continue even after the project was completed.
After completion of the project
The established Purpose has been announced externally.
The above measures are underway within EXEO Group to disseminate the Purpose both internally and externally.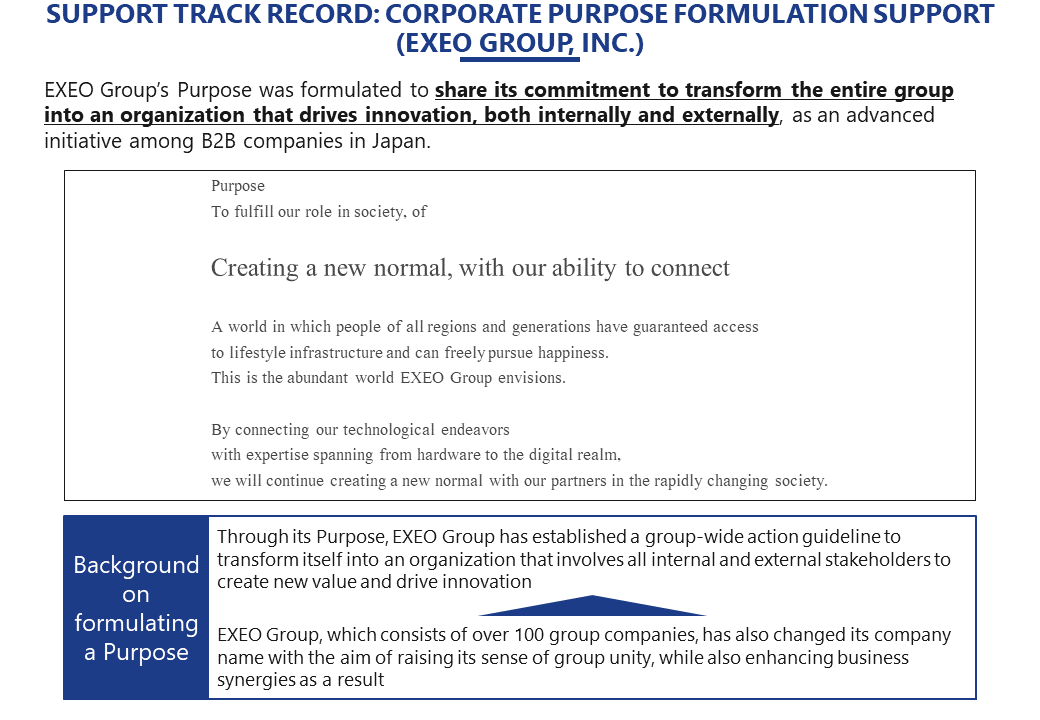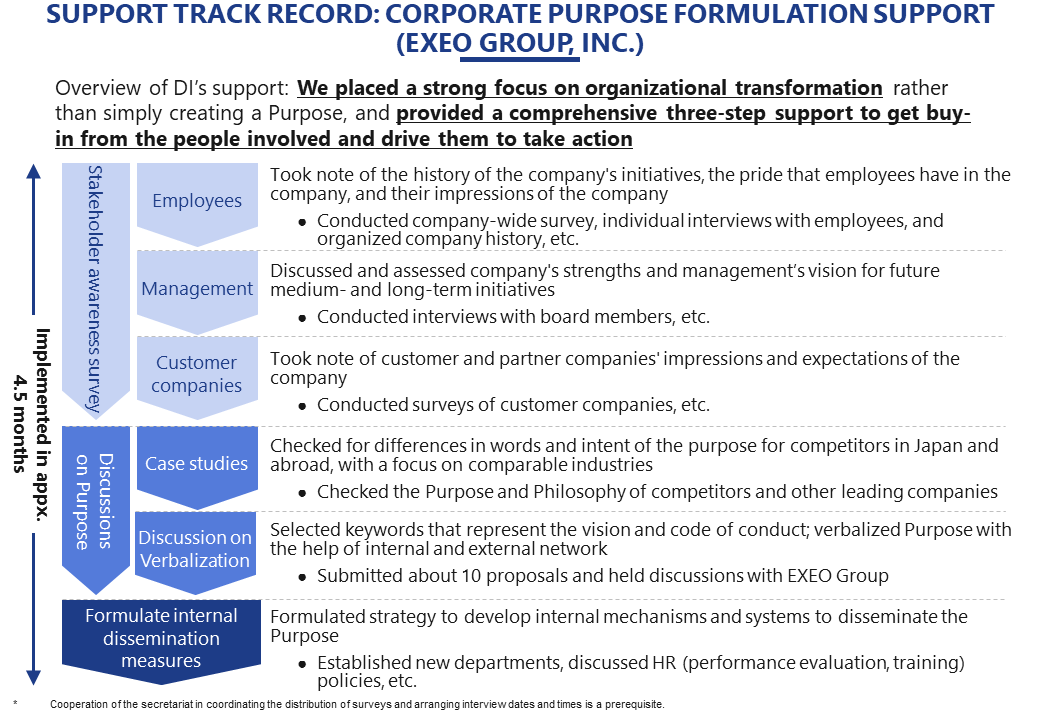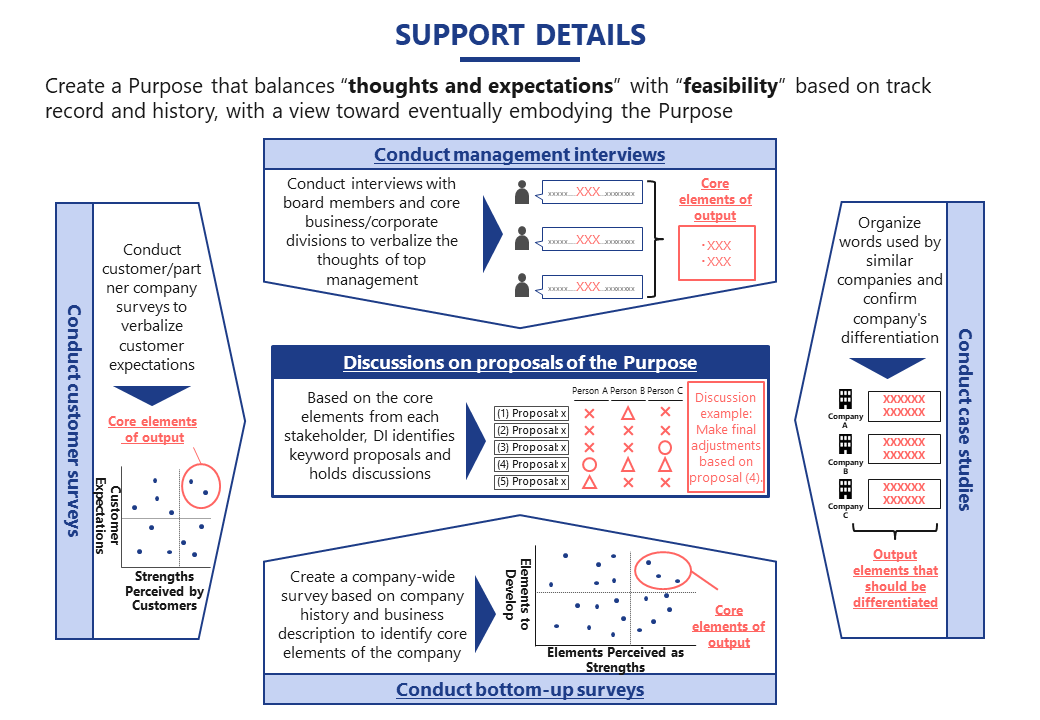 Related Cases
In-team support for the Innovation Promotion Department (IBEX – Innovation Base of EXEO), whose mission is to address changes in the business environment over the medium to long term through innovation
Reference
Establishment of the EXIO Group's "Purpose" (Japanese only) | EXEO Group, Inc Official Company Site