Development of Leaders
DI offers training programs to develop real leadership mainly for corporate executive candidates and managers.Our programs are tailored to each client and customized in combination with group discussion and one-on-one coaching in order to provide the best support based on specific needs of each company.In addition, DI provides programs based on the novel theory on global leadership in cooperation with authorities of this field.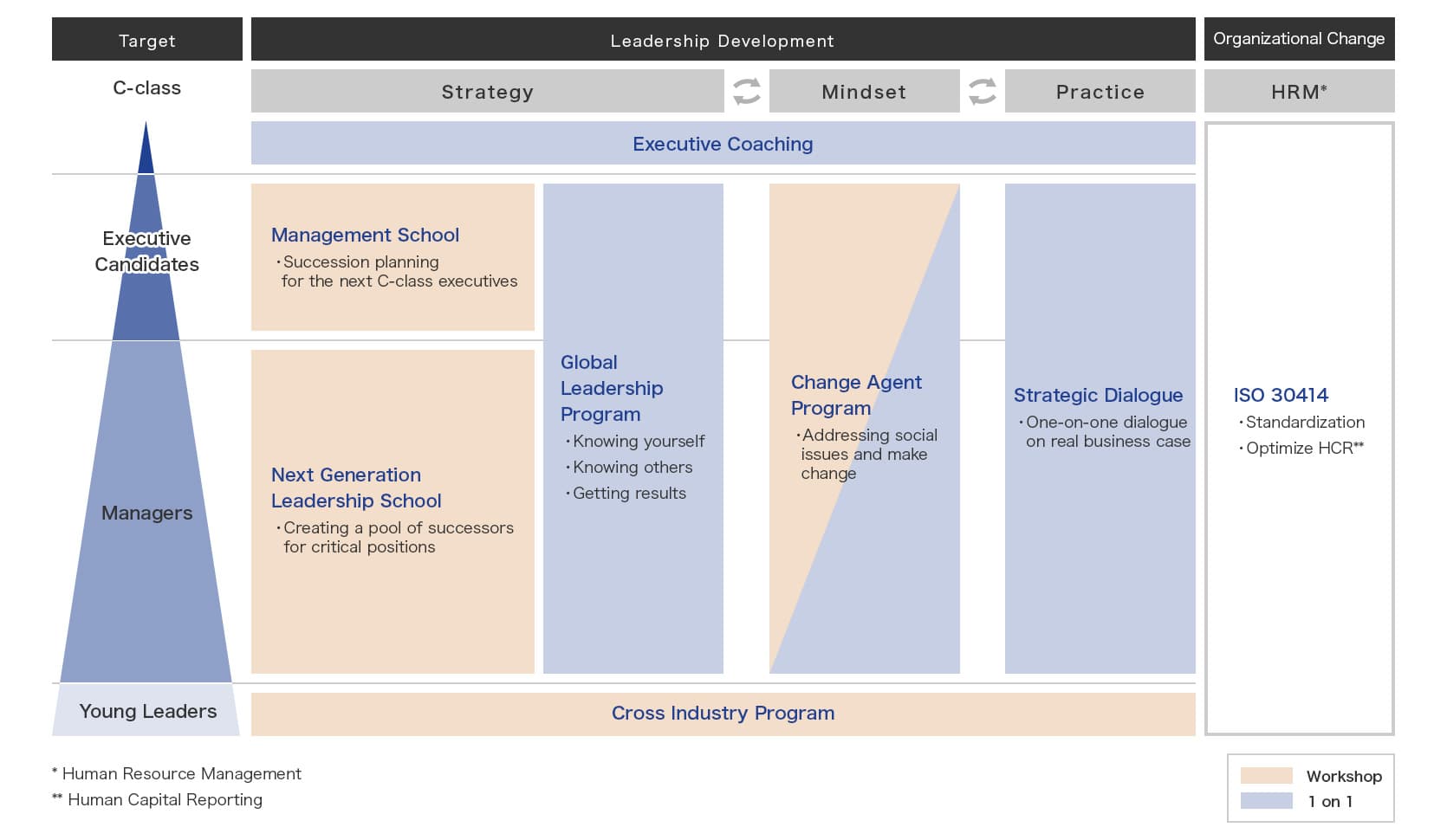 Track records
FEATURED PROJECTS IN LEADERSHIP DEVELOPMENT SUPPORT
Executive Coaching

Provided a coaching program for CEOs and other executives

Advice for executives on management strategy and support for their decisions by experienced coaches with insights about industries and decision making, etc.

Management School

Provided a human resources development program for officer and executive candidates in order to ferment management's viewpoints and develop planning capabilities for company-wide strategies

Specification of management issues, management perspectives for those issues, facilitation for discussion concerning the establishment of measures and strategies, support for trainees' presentation of discussion results to the management team, etc.
Trading company, Consumer goods manufacturer, Entertainment company, Electronic manufacturer, Distribution company, Apparel company, Industrial goods manufacturer, etc

Global Leadership Program

Provided a leadership development program in cooperation with Harvard Kennedy School

Discussions concerning trends in leadership theory, the image of sought-after leadership and the requirements for achieving it, methods for confronting issues faced by participants, method for involving stakeholders, etc.
Medical equipment manufacturer, Internet company, Trading company, Government, Material manufacturer, University, Incorporated non-profit organization, Venture, Entertainment company, Electric power company, Electronic manufacturer, Consultant, etc.

Strategic Dialogue

Provided a practice coaching program

Adjusting between goals and milestones for each participant, drawing up a practice plan, holding regular coaching sessions, giving advice, etc.
Trading company, Consumer goods manufacturer, Venture, Entertainment company, Medical equipment manufacturer, etc.