Track records
TRACK RECORDS OF STRATEGY CONSULTING SERVICES
Business production (business creation) support
Smart City Development, with Leading Automobile Manufacturer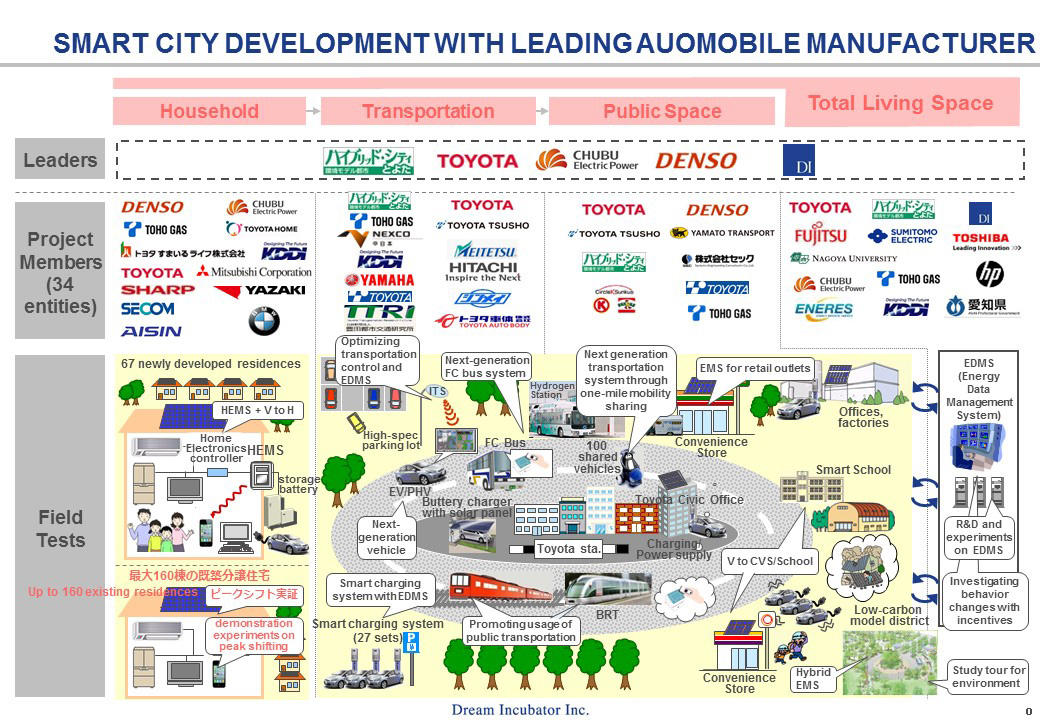 Concept design, business model formulation, role distribution among multiple players, alliance with public policies (funds, regulations, etc.), etc.
New Community Design, Integrating Energy and Mobility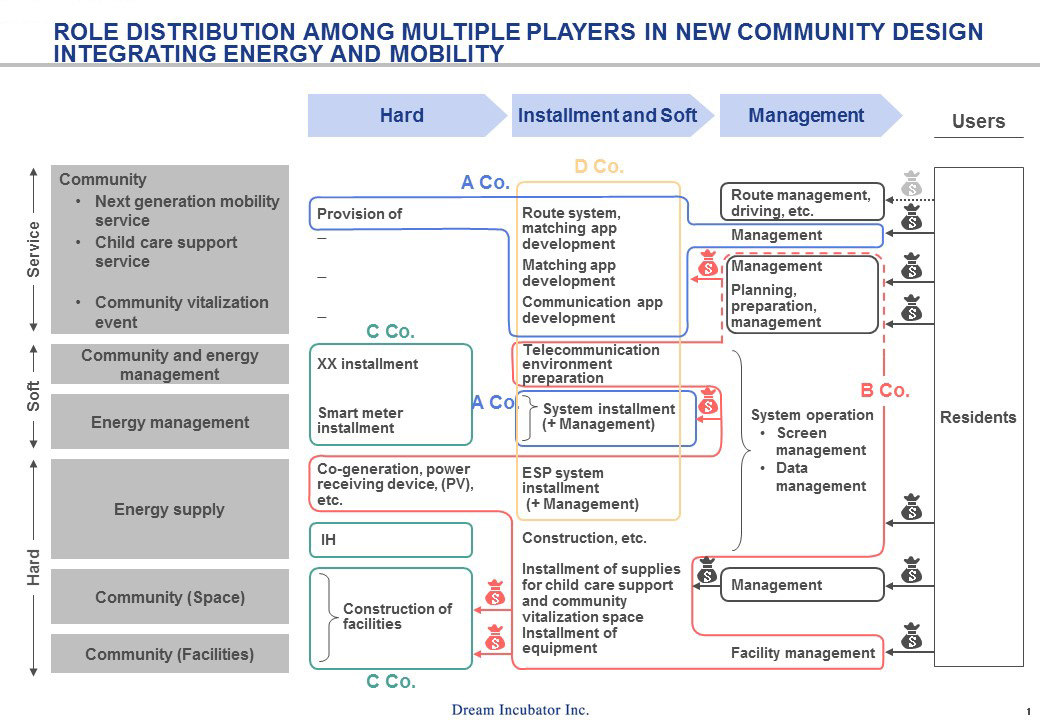 Concept design, role distribution among multiple players, support for promoting cooperative works with community members, etc.
Infrastructure Export, with Major Trading Companies and Manufacturers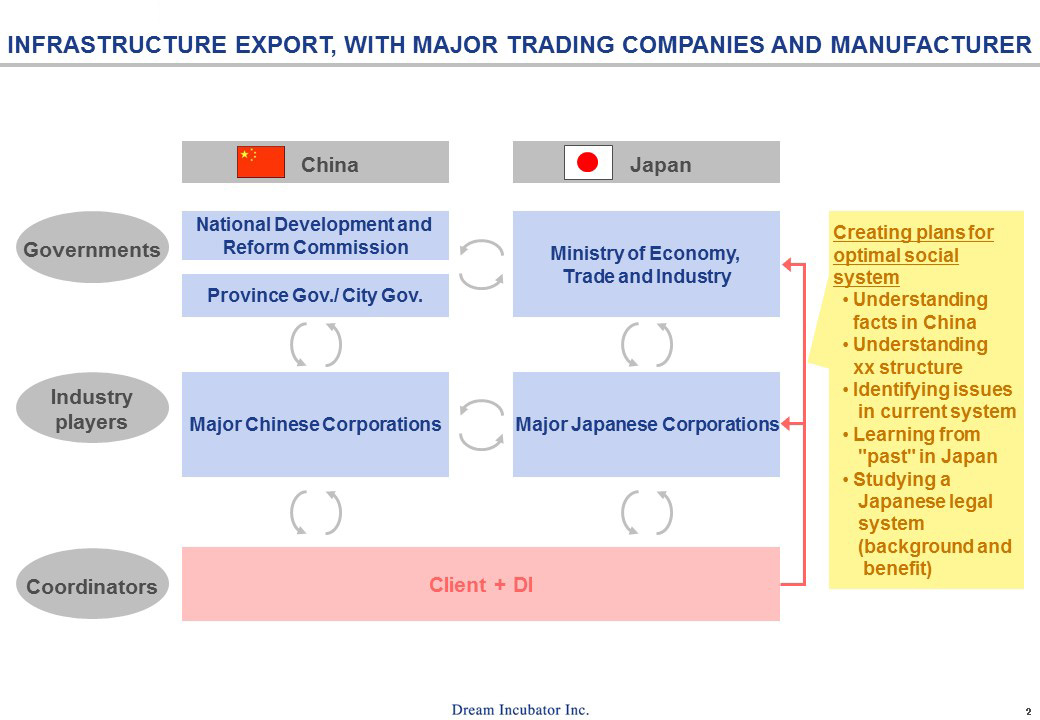 Research and analysis of global markets, systems and regulations, designing of alliances / partnering and negotiation management, alliance with public policies (domestic / global), etc.
Global Market Creation of Energy Saving Appliances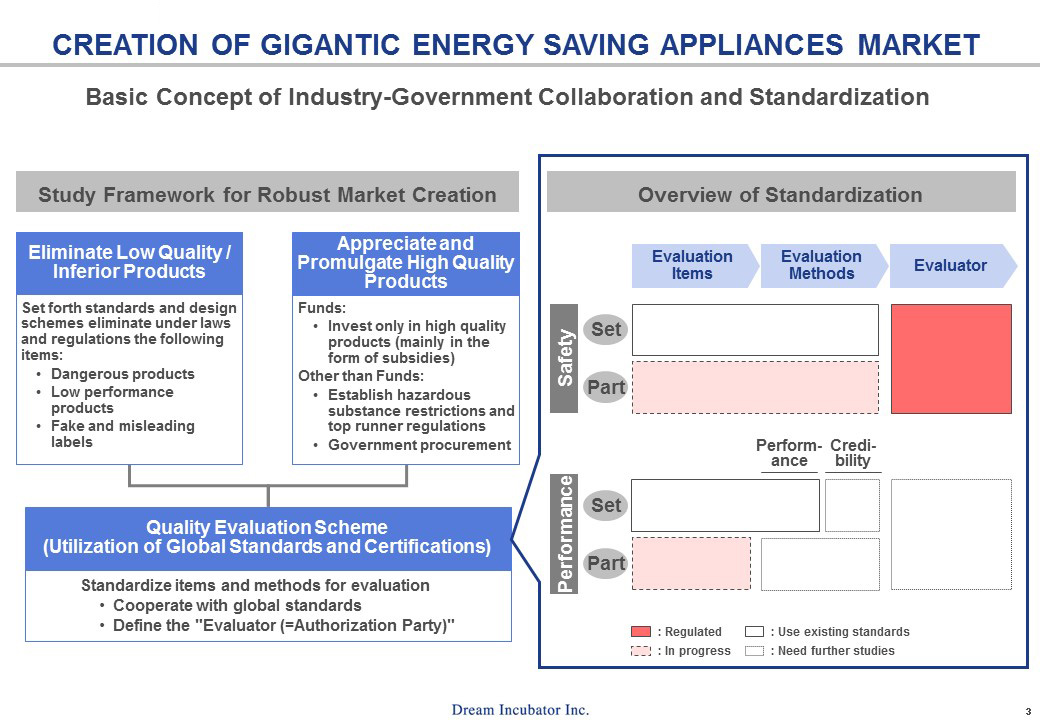 Alliance with public policies, study on technology architecture and global standardization strategy, etc.
Development of Decentralized Energy Supply Business
Designing of new business scheme and realization strategy, alliance/partnering strategy, etc.
Development of New Solution Business, with Leading Electrical Manufacurer
Designing of business model, realization strategy, alliance / partnering strategy, etc.
Innovation and R&D Management System Design
Innovation incubation mapping, study of an appropriate method for producing functions with attention to business feasibility, etc.
Fusion of IT and Business / Study on Next Generation IT Architecture
Concept design, reflection of concept to specific applications, support for alliance and partnering, etc.
Business strategy/Growth strategy development support, Others
Corporate Strategy

Formulate mid-to-long term corporate strategy

Support the drawing-up of mid-to-long term corporate strategy

Business Strategy

Formulate BtoB business reinforcement strategy

Market analysis, company positioning analysis, capabilities redifinition, review of appropriate resource distribution methods

Draw up alliance and M&A strategy

Selection of partner candidates (Long list -> Short list), negotiation strategy planning, (+ negotiation support), etc.
Full-line support from M&A strategy planning to due diligence and PMI (Post Merger Integration)

Business Development

Design core business in new field

Defining core capabilities, analysis of environmental changes and market trends, selection and analysis of noteworthy players, etc.

Draw up market creation strategy for new product (consumer goods)

Research and analysis of global market segments, partnering strategy planning, channel strategy planning, etc.

Technology Strategy

Commercialize next-generation technology

Research on needs by segment, writing a scenario for making profit, channel strategy planning and partnering strategy designing, etc.

Evaluate business feasibility and audit strategies of technology seeds

Technology portfolio mapping, technology positioning analysis, due diligence of marketability based on needs analysis, reflection of analysis results to research and development strategies

Marketing and Sales Strategy

Formulate brand strategy

Research and analysis concerning brand penetration by product / segment, competitive product analysis, brand portfolio mapping, etc.

Support strengthening sales capabilities

Evaluation and analysis of sales structure (by sales rep, channel, etc.), customer needs analysis, due diligence concerning channel's cost effectiveness, cultivation of new channels, etc.

Operation Strategy

Cost management

Detailed checking for fair costs, supplier management (negotiation strategy planning, etc.), defining appropriate service standards, etc.

Reform distribution and logistics structure/p>

Inventory analysis (channel, warehouse, distribution routes, etc.), inventory management, operation review, support for alliance establishment and partnering, etc.

Global Strategy

Formulate global market entry strategy

Market needs analysis, channel structure analysis, examination of local systems and regulations, partnering strategy planning, etc.

Reform global SCM structure

Analysis of supply chain structure by area, support for partnering, re-designing the distribution of roles and duties, etc.

Business Restructuring and Re-growth Strategy

Support reestablishment of business portfolio

Business environment analysis, profitability analysis concerning existing businesses, designing resources distribution, etc.

Formulate recovery strategy

Analysis of competitive environments and earning status by business segment and planning of strategies for contraction, reform, reinforcement etc.
PERFORMANCE OF OVERSEAS
SHANGHAI
Business Producing & Strategy Consulting

Formulated a global expansion strategy of recycling systems

Research on market size, market structure, market trend of the target segment, etc., support for the process from research of systems and regulations to facilitation of policy collaboration, etc.

Formulated a development strategy for water business

Analysis of market structure, designing a business model based on the collaboration with local partners, study of the market entry strategy, provision of the information necessary for decision-making, etc.

Formulated a cold chain establishment strategy

Research of explicit and implicit cold chain needs, analysis of market trends, systems and regulations, and the facilitation of policy collaboration, etc.

Evaluated business feasibility of materials for re-chargeable battery

Simulation of explicit and implicit markets (by product), market structure, research on player's decision-making scheme, etc.

Formulated a market entry strategy for the PC and smartphone related business

Research of market structure/situations, trends of involved players, and systems and regulations, establishment of a cooperative scheme with local partners, including alliance and M&A, etc.

Re-established a business in local joint venture of an entertainment company

Preparation of a marketing manual for Chinese market, establishment of a sales system, organization of a decision-making structure with JV partner, support for negotiating a scheme to enhance corporate governance, etc.

Formulated a growth strategy for a local internet venture

Establishment of a strategy based on research results of North American and Japanese markets, drawing up of communication plans for investors, etc.

Time machine management using an advanced Chinese model

Research on advanced business models in the Chinese market, study concerning the feasibility of the model in Southeast Asia, selection and due diligence of investee candidates, etc.
VIETNAM / SOUTHEAST ASIA
Business Producing & Strategy Consulting

Agricultural/Food value chain business strategy and business producing by PPP scheme with governments of Japan and Vietnam

・JP/VN cooperation model area Lam Dong Province's agricultural development plan & implementation support
・New business strategy formulation for agricultural production, machinery, meat and livestock feed sector
・"Farm to table" fresh food supply platform incubation

Industrial development support for Vietnam regional provinces

・Industrial development master-planning
・FDI attraction strategy building and implementation support

New business creation strategy in healthcare sector

・Medical related business entry, new business establishment and partnering strategy building
・Japanese-tech healthcare center development F/S with Japanese government

ASEAN market entry support for large FMCG brands

・Consumer/market analysis for business expansion, Local partnership strategy building, negotiation support
・Local implementation support as "Virtual" local branches for clients

New business creation strategy in logistic sector

・Southern Vietnam port vitalization strategy building with Japan and Vietnam governments
・IoT based new logistic platform creation and partnering strategy building

Investment by DI Asia Industrial Fund
M&A support

Supported the merger and acquisition of a Vietnam company by a Japanese major food manufacturer

List-up of candidate companies, initial evaluation, business feasibility evaluation, M&A advisory, etc.
SINGAPORE (dormant state)
Producing & consulting

Produced the launch of a new service with a local conglomerate in the healthcare field in India

Business concept creation, negotiations and arrangements with partner (local conglomerate), market research, formulation of an execution plan, etc.

Formulated a strategy for establishing a new electric vehicle business in India

Business concept creation, by involving relevant government ministries and agencies, industrial groups, and local manufacturers

Formulated a strategy for establishing a new energy related business in India, Indonesia and Singapore

Business concept creation, negotiations and arrangements with relevant ministries and agencies, measurement of market size, etc.

Produced a new content business in Indonesia, Thailand and Malaysia

Strategy formulation for launching content business with local startups as vehicles and carried out due diligence on individual companies

Formulated a strategy for developing copyright business in major Southeast Asian countries and India

Research and analysis of current status of the content industry in each country and formulated a commercialization strategy

Evaluated the feasibility of a store-type business in Singapore, Malaysia, and Australia

Analysis of markets and competitors, estimation of profit potential, etc.

M&A Advisory

Advisory for Indian company M&A by a leading agriculture company

Advisory for Indian company M&A by a leading healthcare company

Advisory for Thai company M&A by a leading chemical company

Advisory for Indonesian company M&A by a leading packaging company