Strategy consulting
Features of DI's consulting services
We at DI work hard to create new multi-billion-yen businesses through our various business production initiatives. Using an innovative blend of consulting services, core capabilities in strategy development, and other elements ranging from technology to policy and design, we strive to cultivate businesses with captivating potential.
A focus on business creation and growth
We know that making Japan a more vibrant, powerful business community involves more than just short-term, stopgap business improvements. Our clients, too, understand the limits of simply addressing individual issues with a series of individual countermeasures. Instead of patching up problems, then, DI places its focus on creating new businesses to spearhead future growth and developing growth strategies that enable existing businesses to thrive. An essential element in that effort is the power of high-impact business production—an approach that not only brings in a diverse mix of different players but also incorporates legal perspectives and other components of institutional design.
Feature #1
A cross-industrial approach
Consultants have traditionally worked within fixed, well-defined specializations, making it easier to pool industry-specific expertise. That approach, however, is now coming face to face with transformations in the business world: Internet giant Google has started developing cars, for example, while online retailer Amazon is getting into film production. Given the current conditions, operating inside the insular frameworks of conventional consulting would make real, transformative change impossible in the broader social context. Recognizing the risks of a single-industry mindset, DI makes a conscious effort to have its business producers work across a broad range of different areas.
Feature #2
Collaboration and synergy with incubation projects
As they navigate the world of investment, experiencing the joys of success and learning valuable lessons from setbacks, the business producers at DI develop a deeper understanding of the "buttons" that mobilize groups, locate the keys of the business sphere, and use that knowledge to improve organizations. That managerial prowess, a product of firsthand experience, is what allows DI's producers to make effective, feasible proposals. Another component that sets DI apart is its global network of cutting-edge entrepreneurs and capitalists, which has taken shape over the company's ongoing involvement in wide-ranging investment projects. In addition to sparking insight into next-generation business, these strong connections give DI the ability to link client companies to the best players and human resources available.
A strong, sturdy foundation for strategy consulting
Founded by a group of top executives from BCG, DI draws on its origins to offer strategy consulting services that not only get to the core of management-related issues but also form a foundation for DI's philosophy, approaches, and training efforts. By building on—and constantly adapting—that cornerstone, DI has a solid basis for providing clients with added value.
Project features
DI's long track record in business production has proven enormously beneficial, fortifying a reputation that has led more and more clients to seek out DI's assistance on longer, larger projects. Our clients at DI tend to be leaders—companies with the drive and awareness to revolutionize their respective fields. The manufacturing industry is quickly becoming one of our core areas, with clients drawing on DI's expertise in the all-important technology sector, while the mounting need for global corporate reach is fueling an increase in overseas projects.
Client size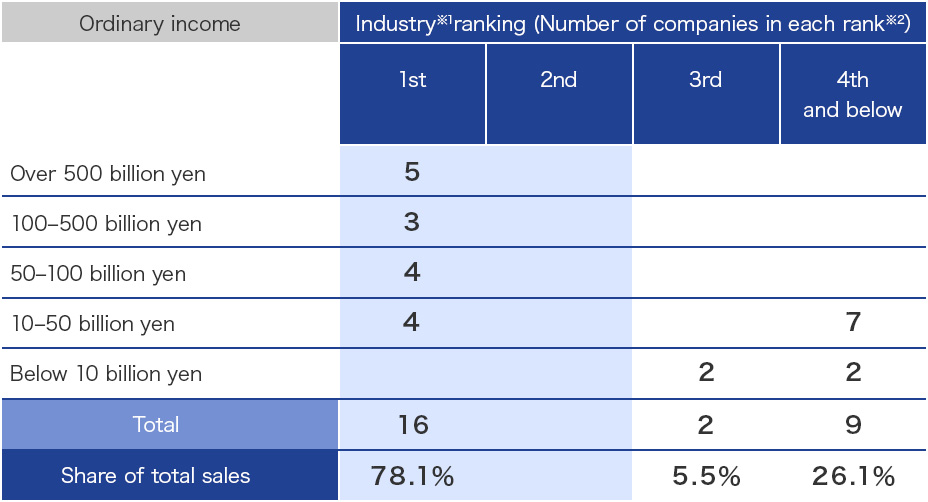 2019年3月期 現在
As the data shows, around 70% of DI's projects are for companies at the pinnacles of their industries. That impressive client base reflects the fact that DI focuses on global competitiveness in developing projects—and that the drive and potential for global competitiveness, in almost all cases, lie in the grasp of industry leaders.
※1Clients are classified by industry based on SPEEDA's industry classifications by UZABASE, Inc.
※2 Includes client companies from FA business and education business(however, excludes NPOs, ventures, and low priced projects)
Client types
The biggest share of DI's client distribution belongs to the manufacturing industry, where our expertise continues to attract large numbers of clients looking for a technological edge over their competitors around the world.
Geographical distribution
Overseas projects (initiatives involving DI personnel doing business and research in other countries) currently account for roughly 30% of all DI projects. As clients are encountering stronger demands to expand on a far-reaching scale, DI's overseas portfolio has been growing in recent years.
Project themes
Roughly 70% of DI's projects center on the theme of future growth. Instead of concentrating on immediate results, these types of efforts focus primarily on long-term development—creating anchors for the future over a five- or ten-year span—through business production, business strategies, and growth strategies.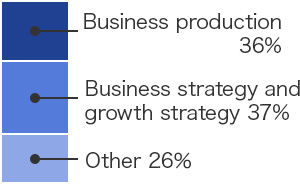 Case
Business production
(business creation) support
Industrial production(creating industrial "umbrellas")

Establishing strong business environments with the right systems and institutions

Foreign market analysis/institutional survey analysis, policy collaboration (financial and institutional, etc.), and more.

Business Development

Design core business in new field

Defining core capabilities, analysis of environmental changes and market trends, selection and analysis of noteworthy players, etc.

Draw up market creation strategy for new product (consumer goods)

Research and analysis of global market segments, partnering strategy planning, channel strategy planning, etc.

Technology Strategy

Commercialize next-generation technology

Research on needs by segment, writing a scenario for making profit, channel strategy planning and partnering strategy designing, etc.

Research on needs by segment, writing a scenario for making profit, channel strategy planning and partnering strategy designing, etc.

Technology portfolio mapping, technology positioning analysis, due diligence of marketability based on needs analysis, reflection of analysis results to research and development strategies
Business strategy/growth strategy development support
Corporate Strategy

Formulate mid-to-long term corporate strategy

Support the drawing-up of mid-to-long term corporate strategy

Business Restructuring and Re-growth Strategy

Support reestablishment of business portfolio

Business environment analysis, profitability analysis concerning existing businesses, designing resources distribution, etc.

Formulate recovery strategy

Analysis of competitive environments and earning status by business segment and planning of strategies for contraction, reform, reinforcement etc.

Formulating alliance/M&A strategies

Partner candidate selection (long list to short list), negotiation strategy development (and negotiation support), and more.
Support for everything from M&A strategy development to due diligence and post-merger integration (PMI).

Global Strategy

Formulate global market entry strategy

Market needs analysis, channel structure analysis, examination of local systems and regulations, partnering strategy planning, etc.

Reform global SCM structure

Analysis of supply chain structure by area, support for partnering, re-designing the distribution of roles and duties, etc.

Marketing and Sales Strategy

Formulate brand strategy

Research and analysis concerning brand penetration by product / segment, competitive product analysis, brand portfolio mapping, etc.

Support strengthening sales capabilities

Evaluation and analysis of sales structure (by sales rep, channel, etc.), customer needs analysis, due diligence concerning channel's cost effectiveness, cultivation of new channels, etc.
M&A Advisory
DI offers M&A advisory services mainly to Japanese companies both on cross-border transactions and domestic transactions.
M&A Advisory
Development of Leaders
DI offers training programs to develop real leadership mainly for corporate executive candidates and managers.Our programs are tailored to each client and customized in combination with group discussion and one-on-one coaching in order to provide the best support based on specific needs of each company.In addition, DI provides programs based on the novel theory on global leadership in cooperation with authorities of this field.
Development of Leaders